Number One Music Review. Is it worth it?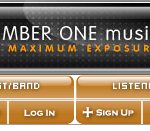 Is the free trial really worth it?
Update 1-2-2016
I have stopped my service with Number one music because I tried to verify the emails I was getting and was unable to verify even one email out of almost 1500 contacts so I figure they must be bogus.
we tried to contact them and ask about it numerous times but they would not contact us back .then they cancelled our membership.
Stay away from them they are of no use!!!
Read read my following article for more information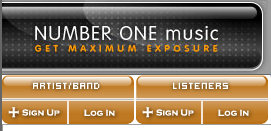 There is no cost to start a membership at Number One Music.
You get to post 3 songs, 3 pictures and 3 options that you can try for 30 days.
1.  350 Daily promo alerts for 30 days.  This will give you an idea of how well the service works.
2.  You get a one time only opportunity to receive 1000 Free promotions within the community.   This is a great benefit if you have a show or need to promote something right away.
3.  30 day access to the mailing list manager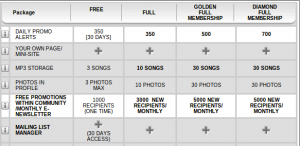 The good thing is you can set up 3 of your songs for free.  
You might see as I did how many fans sign up to your mailing list and how many listeners actually come to your site.
Another nice feature is that you can import your emails to ReverbNation but you can only import them one at a time unless you upgrade to the full membership.
For what that is worth, m

y band is still in the Top 20.
I found out right away if you want the promotion to continue you have to upgrade to the full membership for $15.95 per month but the first month is $19.95 for some reason.
Number One Music can be good for you, although you might find as I did, that you will need to upgrade to have access to  their promotional tools.  I don't think the free trial is really worth it unless you plan on paying for the membership.
ReverbNation is a much better option for posting music and having a mailing list for free.
The other thing that I didn't like about NumberOneMusic is that in order to get their premium services you will have to shell out yearly prices of $119.95 or $199.95.
There are no other monthly payment options in between, so you're either all in or you stay at the basic full membership
If you are willing to spend the extra money you will be able to get social advertising like Youtube and Facebook so it could be a good option if you are seriously wanting to spend some money on advertisements.
In the end I signed up for the basic membership so that I could keep my email contact.
I think it might be worth the investment for getting quality fans.
In my opinion this is one detail that is better than ReverbNation.
ReverbNation ranks much higher for usability of the free version but even the paid version won't give you the fans that NumberOneMusic can provide.
So don't expect a good free service because it is just a trial.
If you want a free trial that can actually be used without upgrading to a premium service, you should probably look somewhere else. The only value I can see with the full membership is the potential fan base.  Here is the link if you would like to check it out for yourself.    http://www.numberonemusic.com/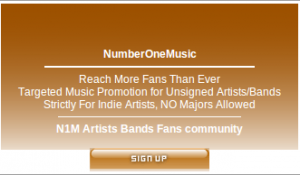 If you are just starting out I would recommend going with the free membership at ReverbNation to begin with.  Get your band established first then add other services like NumberOneMusic as you can afford it and need it.
Is it worth it?  I will let you decide!
I would also recommend that you look into getting your own website for long term promotion of your band.   It is best to have your own domain that is the same as your band name.  Read my article here to find out more.
Thanks for checking
out
 my 
review!
I really appreciate your o
pinions and questions please free to leave them below.